How to Create a Hot Chocolate Bar
How to Create a Hot Chocolate Bar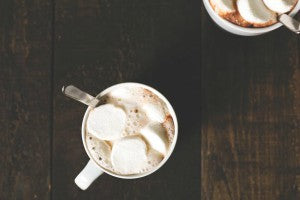 Baby, it's cold outside.  No, really, it's cold outside. The evening weather woman calls it a "cold snap" but it feels more like a "cold avalanche" here in the Northeast, U.S.. When I got home from running errands, the first thing I wanted was a cup of hot chocolate. As I was sipping I was thinking about how delicious hot chocolate is and, naturally, my thoughts turned to how to incorporate hot chocolate into a party.
A hot chocolate bar is an easy, inexpensive item to add to your wintertime party. Your bar can be simple or it can be extremely elaborate (think: multiple types of chocolates and many mix-ins).  Your guests will love the unique twist on an old favorite.
Here are some ideas to get you started:
The Hot Chocolate/Coca
Toppings and mix-ins are important but the guest of the hour will always be the hot chocolate/cocoa itself. The flavor of your hot chocolate/cocoa is very important.  Luckily, there are a ton of hot chocolate/cocoa powders on the market. My favorites are sipping chocolates because they have a richer taste. If you're really enterprising, you can opt to make your own hot chocolate/cocoa (here's a great recipe from The Pioneer Woman).  For the greatest variety, I recommend that you select at least one dark chocolate, one lighter milk chocolate and one white chocolate for your hot chocolate bar.
The Milk
Whole milk or heavy cream are generally the best options on a hot chocolate bar because they create an extremely creamy taste. Another option is to use water and to add evaporated milk or heavy cream. I think this version tastes a little thin but I won't judge you if this is how you like your hot chocolate. Of course, please remember your lactose intolerant guests. Soy milk (original, not vanilla flavored) is an excellent lactose free option.  If you wish to avoid soy, coconut milk is another option but keep in mind that it will slightly change the taste of the hot chocolate.
The Toppings and Mix-ins
This is where you can have a great deal of fun with your hot chocolate bar. Old classics such as whipped cream, marshmallows, shaved chocolate, mint and chocolate syrup are…well, classics because they are always crowd pleasers. Other incredible toppings are ground hazelnut, pieces of caramel, chocolate chips (they melt slower than shaved chocolate), candy canes (crushed for a topping or in-tact for a cool stirrer) cardamon, nutmeg, vanilla extract and pieces of Andes mints.  I also really love to add a dash of cayenne pepper to hot chocolate (a la Mexican Hot Chocolate).
Set the bar up on a buffet.  Set out mugs at the start of the buffet.  Set the hot chocolate up in a pretty, insulated dispenser right next to the mugs.  Next, present the toppings and mix-ins in pretty bowls with spoons in each bowl.
Happy Planning!