Should You Hire a Staffing Company? The Downsides.
Should You Hire a Staffing Company? The Downsides.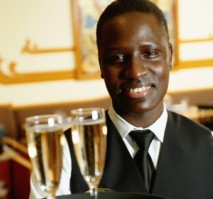 If you're on this website you have probably realized that there are a million and one details required to execute a catered affair. The three main areas are the food, the setup/breakdown and the food service. A quick internet search will likely return a number of staffing companies in your area. These companies provide caterers, bartenders and chefs for a flat hourly fee. In some situations, this can be a brilliant solution and in others it can be an absolute disaster. We've seen both.
It's completely up to you to decide if a staffing company is the answer to your prayers. Here are some things to consider while you decide:
You will quarterback the catering staff.
Even where the staffing company provides a catering captain (sometimes called a banquet captain), you must still instruct the staff on exactly what to do. "Set up the buffet" and "set 8 table settings at each table" may not be enough detail for you to be happy with the results. Therefore, you (or a friend/family member) must instruct, monitor and guide the catering staff throughout the event.
At the end of the event, you are still quarterbacking.
Generally all sites have clean up requirements such as how to handle recyclable containers, placement of trash bags, cleanliness of kitchen and repacking tables and chairs. Even if the staffing company is conscientious, since you, and not them, have a contract with the site you will be liable for any broken rules.
Days after the event you might still be quarterbacking.
A day or two after the event, rentals (linens, tables, stemware, etc) must be accounted for and returned. Again, since you, and not the staffing company, have a contract with the rental company you must ensure that all equipment is returned on time and in the manner required by the contract.