Planning Your Menu: A Basic Primer
Planning Your Menu: A Basic Primer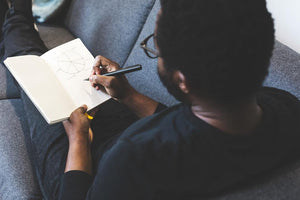 We have seen it a million times: a client comes to us with a menu wishlist. Everything sounds delicious but the menu items are absolutely horrible together. In a world where most caterers have extremely extensive menus (ourselves included), those menus can be customized (us, again) and the chef is happy to create a recipe just for your event (yup, us again), it is very, very easy to get overwhelmed by all the choice and start selecting every and anything that sounds yummy. Sadly, all those yummy things may not go well together to create the perfect meal.
In order to help you reign in your imagination, we've created a simple guide to help you focus on putting together a delicious, coherent menu. As you browse menu offerings, keep the below principles in mind. We recommend that you let your imagination roam free and select multiple options for each category. Budget and guest count will help you to narrow down the final menu selections.
Cocktail Party
1 fish option (at least). If you will have only one fish option, avoid shellfish due to many people's allergies.
1 red, white meat or chicken option (at least). If you will have only one option and you are also serving lunch or dinner, select the opposite of what you are serving for the meal. For example, if you are serving steak at dinner, have a pork or chicken appetizer.
1 vegetarian/vegan option (at least). If you will have only one non-meat option, it should be vegan so all of your non-meat eaters are covered.
1 gluten free option (at least). Keep in mind that this could also be your meat option, such as a carving station. However, it's generally safer to also offer one meat, free gluten free option as well.
Stations
In order to maximize the creative potential of stations, serve something very different at each station. For instance, at each station serve cuisine from a different part of the world or foods served at different temperatures (a hot station, a warm station and a cold station) or foods from different courses (an appetizer station, an entrée station and a dessert station).
When planning the menu for each station, think of each station as it's own meal. Follow the tips below for planning a lunch/dinner menu. Keep in mind that each station should have a vegetarian/vegan option. This includes your carving station. Do not make your vegetarian/vegan guests search for food!
Lunch or Dinner (buffet, plated, french or family style)
Generally, a meal should have one vegetable, one starch and one protein. Of course, you can have more than one option in each category (for example, a surf and turf meal) but each category should be filled. If you are presenting your meal as courses, then break the categories into course. Just make sure that by the end of the meal, every category has been satisfied.
Breakfast
You have a tremendous amount of flexibility when planning a breakfast menu. For instance, a carb heavy continental breakfast is perfectly acceptable. But generally, keep these tips in mind:
Serve fruit (whole or pieces)

Serve juice, coffee and tea
If serving breads or muffins, select a combination of sweet and savory options and include a selection of spreads, jams and butter/margarine
If budget allows, serve something hot, such as eggs, french toast or oatmeal.  Hot food on a breakfast buffet instantly adds a bit of class!
Happy Planning!