BBQ Menu Guide for Parties
BBQ Menu Guide for Parties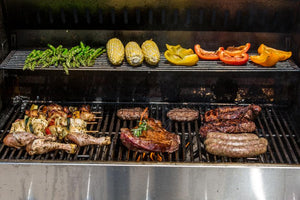 Are you looking for a fun menu theme for the party that you're planning? Why not be inspired by all the BBQs that will happen this summer?
It's true that BBQs are considered to be informal events with friends and family in the backyard or park. However with a few changes to the classic BBQ menu, you can have a menu with a touch of elegance, but just as much fun as a family BBQ.
Here are some cool ideas that I love for a tasty BBQ menu:
Drinks:
There are a variety of classic, summertime drinks to consider for your BBQ-themed party. Lemonade and iced tea have always been favorites for BBQs. Shake up the ordinary and serve Tropical Fruit Punch, Rum Punch, Brazilian lemonade or iced hibiscus sweet tea.
Entrées:
The best part of a BBQ is the grilled food. If you are looking for creative options when compared to the standard fare, I suggest serving grilled lamb chops, grilled trout or grilled shrimp and fried sweet plantains. Another option is to serve "heavy" finger foods, such as Chicken Satay with Spicy Peanut Sauce or Mini Crab Cakes with Remoulade.
Sides:
A BBQ menu isn't complete without savory side dishes. For an alternative to tossed salad, a great idea is to serve delicious Grilled Vegetables. Other side dishes like Grilled Potatoes and Macaroni Pie can be an appetizing addition to any event.
Desserts:
Make sure your party includes fabulous desserts at the end! You could serve vanilla panna cotta with mixed berry compote in beautiful cocktail glasses or green tea ice cream, the Asian spin on an American classic.
Do you have any terrific menu ideas that you want to share? Please comment in the section below. Happy summer party planning!